Theatre Group
The Theatre Group aims to provide regular monthly trips to the theatre to see a wide range of plays, dramas, comedies and musicals. We try to use local theatres (e.g. in Aylesbury, High Wycombe, Oxford and Milton Keynes) as much as possible, but we occasionally venture further afield (e.g. London).
The choice of event is made by group members. The dates and costs are subject to booking arrangements.
It may be possible to arrange for the group to read some plays before attending the performances, limited by the availability of scripts.
Group Leader
If you wish to join us, or attend any of the events, please contact:
Mary Patterson – 01844 291919 email events@haddenhamu3a.co.uk
Costs
Costs vary, depending on ticket prices. We try to find the most economical method of transport to each venue.
Payments may be made by giving a cheque to the event organiser or to the Group Leader. Cheques should be payable to Haddenham U3A and have the name of the event written on the back. However, we prefer payment by internet or telephone banking to the credit of Haddenham U3A at CAF Bank; sort code 40-52-40, account no. 00021010, with the event quoted as reference. As soon as you have used one of these methods, please email or ring the Treasurer (treasurer@haddenhamu3a.co.uk or 01844 292393) and the event organiser to confirm that your payment has been sent.
Gallery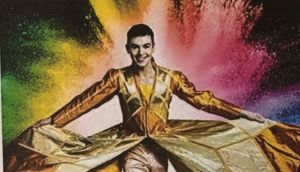 Joseph and the Amazing Technicolour Dreamcoat
17 July 2019
Programme
Wednesday 17 July 2019 – Joseph and the Amazing Technicolour Dreamcoat
Union J's Jaymi Hensley dons the Technicolor Dreamcoat for his first ever major musical role.
With additional new choreography from Gary Lloyd (Thriller Live, Heathers), Bill Kenwright's 'Superb', 'Wonderful' and 'Brilliant' production of Tim Rice and Andrew Lloyd Webber's sparkling family musical is brought to life in a colourful explosion of joy.
Having risen to fame on The X Factor, Union J went on to have a top ten album and a major UK tour and Jaymi later appeared on hit TV shows including Celebrity Masterchef.
Retelling the Biblical story of Joseph, his eleven brothers and the coat of many colours, this magical musical is full of unforgettable songs including Go, Go, Go Joseph, Any Dream Will Do and many more.
Venue:    The New Theatre, Oxford
Time:      Performance 2.30pm
Cost:      £34.90
Travel:    Make your own arrangements by train, bus or park and ride.
Organiser:   Margaret Ackroyd (01844 292393) or email on  theatre@haddenhamu3a.co.uk
Thursday 5th September 2019 – Agatha Christie's 'Towards Zero'
Venue: The Mill at Sonning
Cost: £59.50
Details: Includes coach, evening meal and show. Coach departs Haddenham Village Hall at 5pm
Organiser: Margaret Ackroyd (01844 292393) or email on theatre@haddenhamu3a.co.uk