May 2020
Hello members
I hope you are all well and managing to keep your spirits up in the lockdown.   I have to say that I consider myself fortunate to live in such a beautiful place where I can see lovely countryside and listen to the birds sing.  And even in lockdown, groups in Haddenham have come up with ways of continuing some events, taking account of Government Social Distancing guidelines.
The Haddenham Association of Scouts and Guides will go ahead with the Scarecrow Festival this year, with aall proceeds going to the Medical Detection Dogs Charity.   We thought that our U3A should be represented this year, so I have been very busy creating our scarecrow Lockdown Lilly.  The scarecrows will be on display from 1st – 14th June and Lockdown Lilly will be sitting in the front garden of 1 Church End, so if you are able to go out for your daily exercise I hope that you will follow the Scarecrow Trail and see her and all the other participants.  Trail maps can be found on www.haddenham.net  and in some of the local shops.  For those of you not going out I think there may be a virtual display of some of the scarecrows to view at home.
Something else to keep us occupied while staying at home is the Virtual Gardens Tour.  With the Haddenham Fete being cancelled, the gardens near the village green, which normally open for visitors raising money for charities including the Florence Nightingale Hospice, are unable to do so this year.   However, the owners have kindly allowed the Haddenham Village Society to create virtual walking tours of their gardens, for everyone to enjoy from the comfort of their own homes and without any social distancing issues to overcome!  For details of how to view the tours and make a donation have a look on www.haddenham.net.
The walking holiday booked for this June with Holiday Fellowship is cancelled and Carol Mason has instead reserved places for us on the same holiday at the same time next year.  Thirteen people have rebooked but, for the holiday to run, six more bookings are sought.
Details are as follows:
Date: May 31st to June 4th 2021
Location: Malhamdale in the South Yorkshire Dales
Cost: Self-guided walking £409.00 per person
Gentle Guided walking £505.00
Discovery Tour £549.00
Deposit £75.00. Balance is due mid-April 2021.
For further details contact Carol Mason    01844 292236
email:  mason.carol16@gmail.com
Further information can be found on the company website hfholidays.co.uk
One of our members, Anne Routh, has written a poem reflecting on lockdown.  Called Silver Linings you can read the poem which is attached to this email.
Thank you to all those members who have paid their subscription and a reminder to those who have not already done so.  I know that Elaine, our membership secretary, would be happy to be able to finalise this.
Our next newsletter will be coming out in August.  We are always looking for material for our newsletters and would love members to share their lockdown thoughts and observations, interesting ways of keeping occupied and humorous items.  Please email any such contributions to publicity@haddenhamu3a.co.uk
To finish on a cheery note, here is a link to a video which I hope you will all find fun, but which will appeal especially to Abba fans.
https://www.youtube.com/watch?v=hOXtKOziD6M
Hopefully it will not be too long before we can all get together again but in the meantime stay safe and well.
I send you all my very best wishes.
Sally Lajalati – Chairman
Coronavirus
Dear Members,
Regrettably, in the current circumstances we have taken the decision to cancel our April, May and June General meetings including our AGM. In addition the National U3A day is now planned for the alternative date of 1st October 2020.
For those of you who belong to one or more of our many interest groups, your group leader will keep you informed as to whether or not the group meetings will continue.  Could group leaders also please let Linda Page or me know if you are cancelling your group meetings.
Stay safe and stay healthy – and keep smiling.
Best wishes to all
Sally Lajalati – Chairman
News
There remain vacancies on your committee for a Deputy Chair and a Co-ordination Officer.  Any member who might be interested should contact Sally and may like to come along to a committee meeting to help decide.
Nominations to fill Officer posts are invited at the May AGM"
Diary dates
Regrettably, in the current circumstances we have taken the decision to cancel our April, May and June General meetings including our AGM. In addition the National U3A day is now planned for the alternative date of 1st October 2020.
Newsletter
For the latest Haddenham U3A newsletter, please click on the graphic: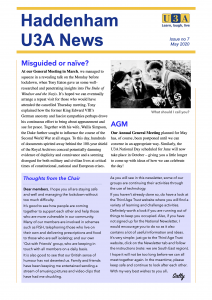 Request
If members have any suggestions for trips to new locations or events once things return to normal, please let us have your ideas.  Please contact Mary Paterson at
events@haddenhamu3a.co.uk
Corona Virus U3A update from the Third Age Trust
Following the confirmed cases of coronavirus in the UK, the Government and NHS have issued advice for members of the public.  The Third Age Trust wants to share this advice with you.
Typical symptoms of coronavirus include fever and a cough that may progress to a severe pneumonia causing shortness of breath and breathing difficulties.
The UK Chief Medical Officers are advising anyone who has travelled to the UK from mainland China, Thailand, Japan, Republic of Korea, Hong Kong, Taiwan, Singapore, Malaysia or Macau in the last 14 days and is experiencing cough or fever or shortness of breath, to stay indoors and call NHS 111, even if symptoms are mild.
More information about the virus, as well as symptoms and advice, is available to view at
https://www.gov.uk/guidance/wuhan-novel-coronavirus-information-for-the-public
PLEASE USE THE LINKS AT THE TOP AND THE FOOT OF THE PAGES TO FIND OUT MORE