News
Haddenham U3A welcomes all members to our monthly General Meetings.  These offer a wide range of presentations from experienced speakers.
Health and Safety requirements and guidance in relation to Covid-19 meant that for many months it was impossible to hold such meetings face-to-face.  Following easing of restrictions, these General Meetings are now being held in Haddenham Village Hall on the second
Tuesday
of each month
at 2.15
for 2.30pm.  With our support, the facilities there are being improved and necessary steps continue to be taken to reduce risks of infection in line with government measures.  Do please join us for the one hour talks and perhaps a follow-up tea and chat.  Non members who may be interested in joining Haddenham u3a are always welcome to come along to find out more.
Any changes in our programme or our arrangements, including cancellation, will be notified here.
Diary dates
Please see the General Meetings page for details of the next meetings.
Newsletter
For the latest Haddenham U3A newsletter, please click on the graphic: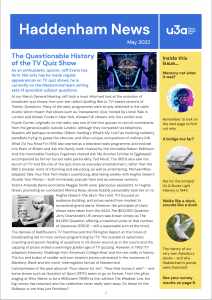 There remain vacancies on your committee for a Deputy Chair and a Co-ordination Officer.  Any member who might be interested should contact Sally and may like to come along to a committee meeting to help decide.
Request
If members have any suggestions for trips to new locations or events once things return to normal, please let us have your ideas.  Please contact Mary Paterson at
events@haddenhamu3a.co.uk