News
The committee is delighted to report that new member Linda Page has agreed to join the team, taking over the role of Interest Group Coordinator following the resignation of Theresa Smith and that Elaine Parkes has re-joined the committee as membership secretary following the retirement from this role of Chris Collins
There remain vacancies on your committee for a Deputy Chair and a Co-ordination Officer.  Any member who might be interested should contact Sally and may like to come along to a committee meeting to help decide.
Nominations to fill Officer posts are invited at the May AGM"
Diary dates
The March General Meetings on 9th and 19th March feature Tony Eaton's investigation into one of the Royal Family's most closely guarded secrets:  t

he Duke of Windsor and the Nazis

As announced in an interim news bulletin emailed to members in January, the new venue for our monthly General Meetings will be the conference suite at the back of Bradmoor Farm shop. The first meeting there will be on Wednesday 8th April and thereafter there will be one monthly meeting at 1415 for 1430 on the first Wednesday
Our AGM for 2020 will be at Bradmoor Farm on Wednesday 6th May
Newsletter
For the latest Haddenham U3A newsletter, please click on the graphic: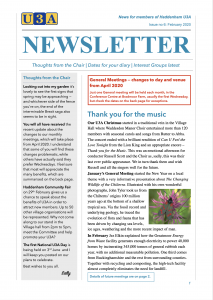 The Summer issue will be sent to members late May.  Please send contributions for publication to
Neil
by 8th May.
Request
If members have any suggestions for trips to new locations or events, please let us have your ideas.  Please contact Mary Paterson at
events@haddenhamu3a.co.uk
Corona Virus U3A update from the Third Age Trust
Following the confirmed cases of coronavirus in the UK, the Government and NHS have issued advice for members of the public.  The Third Age Trust wants to share this advice with you.
Typical symptoms of coronavirus include fever and a cough that may progress to a severe pneumonia causing shortness of breath and breathing difficulties.
The UK Chief Medical Officers are advising anyone who has travelled to the UK from mainland China, Thailand, Japan, Republic of Korea, Hong Kong, Taiwan, Singapore, Malaysia or Macau in the last 14 days and is experiencing cough or fever or shortness of breath, to stay indoors and call NHS 111, even if symptoms are mild.
More information about the virus, as well as symptoms and advice, is available to view at
https://www.gov.uk/guidance/wuhan-novel-coronavirus-information-for-the-public
PLEASE USE THE LINKS AT THE TOP AND THE FOOT OF THE PAGES TO FIND OUT MORE