News
After many months of holding our General Meetings on Zoom we are really looking forward to finally resuming our face to face meetings.
These will now take place in Haddenham Village Hall on the second Tuesday of the month at 2.15 p.m. for 2.30 p.m.
Following the easing of restrictions, in the interest of keeping everyone safe, we will still be encouraging people to act sensibly and cautiously.   We will continue with social distancing measures, spacing the chairs out and asking that members maintain a social distance when queuing to register and for refreshments.  Hand sanitizer will be available and there will still be a requirement to clean surfaces before and after use so we will be providing antibacterial wipes so that each member can clean their chair at the end of the meeting.   Although mask wearing is no longer mandatory I am sure that many of you will wish to continue with this.
The venue requirement for track and trace also remains.   You can use the NHS app and scan the QR code if you wish but we will be taking a register of attendees as before so people can be contacted if necessary.
We look forward to welcoming members back so we can once again enjoy the opportunity to listen to a wide variety of interesting speakers and chat over a cup of tea
Diary dates
Please see the General Meetings page for details of the next meetings.
Newsletter
For the latest Haddenham U3A newsletter, please click on the graphic: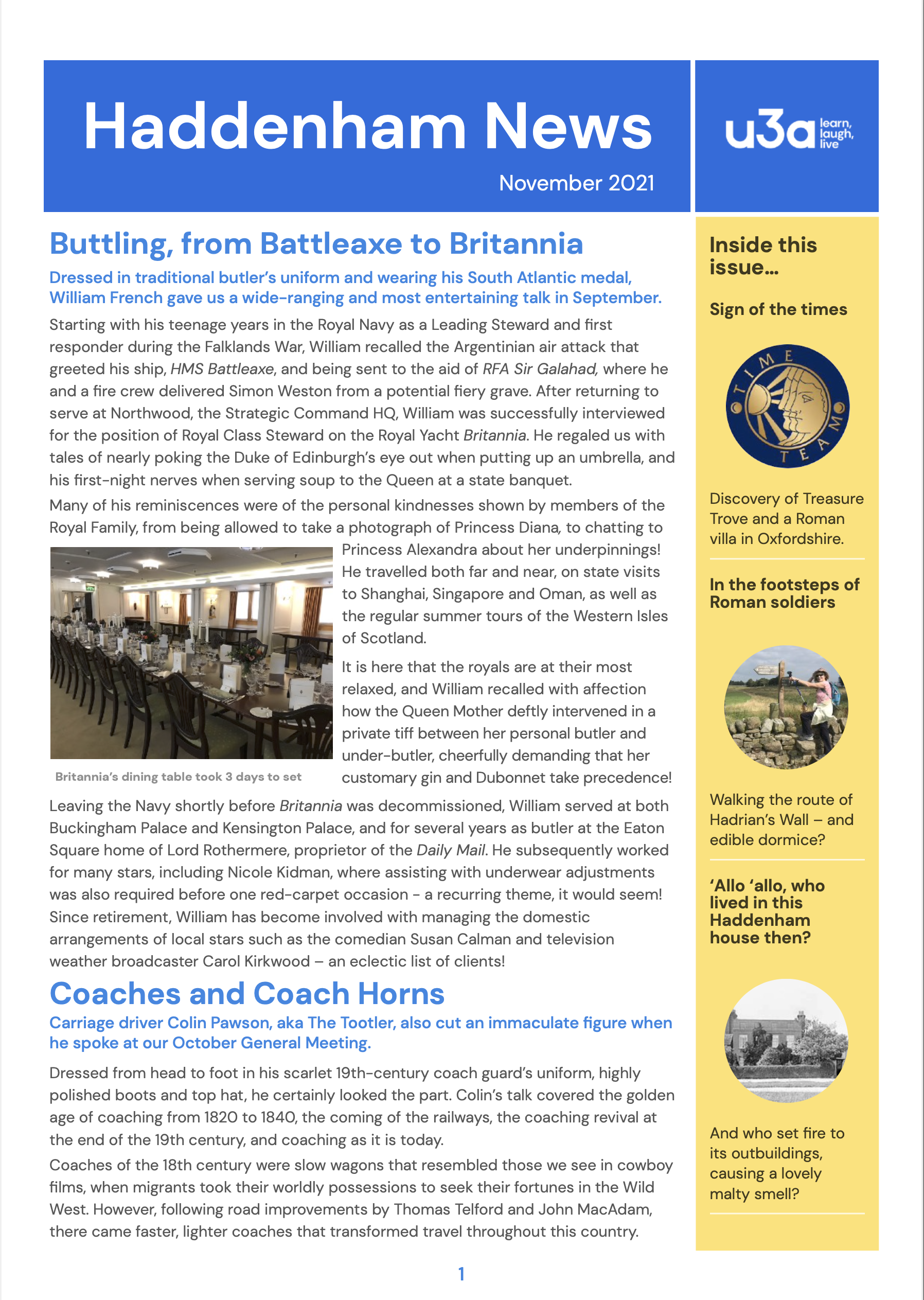 There remain vacancies on your committee for a Deputy Chair and a Co-ordination Officer.  Any member who might be interested should contact Sally and may like to come along to a committee meeting to help decide.
Request
If members have any suggestions for trips to new locations or events once things return to normal, please let us have your ideas.  Please contact Mary Paterson at
events@haddenhamu3a.co.uk