General Meetings
General meetings of Haddenham U3A usually have a guest speaker and from April 2020 will be held on the first Wednesday of each month. Members arrive from 2.15 for a 2.30 start. Meetings usually last for an hour and a half, including time to socialise over a cup of tea.
Guest speakers cover a wide variety of topics of general interest to enable an increased awareness of our locality and our world, embracing history, travel, nature, science and culture, with a balanced programme to meet U3A aims.
We hope you will enjoy our meetings, learn something new, get to know other members, and occasionally volunteer to help out.
In accordance with the Government guidelines, we have cancelled all our normal General Meetings until further notice.
However, we continue to have an interesting programme of talks by Zoom and more members are logging in to enjoy them.
The meetings listed below are by Zoom and must be pre-booked by responding to the notice sent from our database of members.   An invitation will then be sent to your email 24 hours before the event giving details on how to access.
Venue
The normal monthly meetings take place at:
Haddenham Village Hall
Banks Park,
Banks Rd,
Haddenham
HP17 8EE
There is parking at the venue.
Costs
General meetings are free to members of Haddenham U3A.
SPEAKER INFORMATION – U3A PROGRAMME 2021
Wednesday 2nd June at 2.30pm on Zoom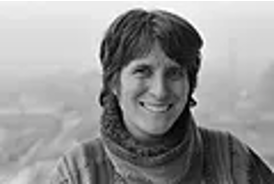 Getting a gratitude attitude – Talk from Elisabeth Gowing
For more than 4 years Elisabeth has been keeping a daily gratitude diary and reading, writing and giving talks about the science of gratitude (She even took part in a University of Berkeley study) and its impact on well-being.
She has learned (from theory and practice) what to do with journal entries to maximise the impact on her happiness (and maybe the world's).
Elisabeth has ended up in some ridiculous situations and mulled on the link between gratitude and such diverse phenomena.
An experienced public speaker, over the last few years she's given over 250 lectures and talks in schools (as a guest in classrooms, at assemblies, or as the motivational speaker for prizegiving) and universities,  on Excess Baggage, Saturday Live and 'From Our Own Correspondent' on BBC Radio 4,  ABC Radio in Australia, at beekeeper groups,  bookshop signings and ticketed events,  a cookery demo at the London Book Fair,  women's groups, branches of U3A, the English Speaking Union, Rotary Clubs and NADFAS/ The Arts Society,  the Albanian Presidency at the invitation of the First Lady, in London at the Royal Anthropological Institute, at the American Embassy, Prishtina, and to foodies, literary festivals, RHS Wisley, museums, a lifeboat station and a jazz club.
WEDNESDAY 7TH JULY AT 2.30PM – ON ZOOM
Talk on Doreen Carwithen, born in Haddenham and the first female film composer –  By Mark Chivers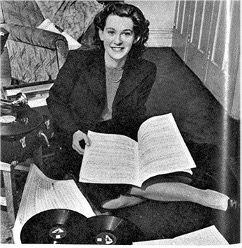 "In April 2007, I was excited to move from suburban Oxford to the relative calm of Fort End in Haddenham. As a professional Viola player, it was a good spot to catch the train in and out of London. Abbey Road and Air recording studios were a short train journey away and we were near the M40 for all my concert work further north. I was vaguely aware that a little-known female composer, Doreen Carwithen, had been born in the village, but with no recordings and little material to research, I ended up forgetting about the whole matter.
Fast forward to the beginning of 2020, when I was excited to find out that Doreen, now attaining a much higher profile, was born in 1922 and that 2022 was to be her centenary. There were now several recordings of Doreen's Film Scores available, and her genius as a first-rate composer became more evident as I realised that she was the first full-time female film composer anywhere in the world. I therefore set out on my investigative journey with the aim of putting on a music festival in the summer of 2022, to honour the centenary and music of this remarkable woman".
This talk will cover Doreen's life, her family's connections to Haddenham and the journey to putting on an inaugural, large scale music festival.
Mark Chivers leads a busy freelance career in London, being Principal Viola for many crossover artists including Katherine Jenkins, Alfie Boe, Michael Ball, Aled Jones and Russell Watson. Mark has appeared on many TV and film soundtracks (including X Factor, Popstar to Operastar and Britain's Got Talent for ITV and the soundtracks to Doctor Who, Land Girls, Father Brown Investigates, The Coroner and The Human Planet for the BBC). He also recorded the score for Victoria Wood's film That Day We Sang (starring Michael Ball and Imelda Staunton) which aired on BBC2/Boxing Day 2014.
His appearances on Hollywood movie soundtracks include Anna Karennina (2013) and The Theory Of Everything (Nov 2014) which won the Golden Globe for Best Music Score and was nominated for an Oscar.
He can also be heard on many "Sony Award" winning TV Adverts, from Reebok through to Mercedes Benz.
Mark is Principal Viola of the National Symphony Orchestra, a core member of Orchestra of The Swan and is the newly appointed No.2 for Raymond Gubbay's London Concert Orchestra, alongside extensive work for the BBC Orchestras. He was also in Katie Melua's String Quartet (11 million albums sold) alongside touring with a diverse range of pop artists (from Peter Gabriel to Goldfrapp).
His String Quartet, Masquerade, are contracted to Russell Watson and have toured extensively with him since 2015.
www.masqueradestringquartet.com
Tuesday 10th August – 2 for 2.30pm
Venue: Haddenham Village Hall
Climate Change Plans for Haddenham
Haddenham Parish Council is very concerned about the impact of Climate Change. At a meeting on 24th June 2019, the council agreed to declare a Climate Emergency and pledged to make Haddenham carbon neutral by 2030. Since then, work has been ongoing to identify the most impactful changes that Haddenham residents and organisations can make to reduce carbon emissions. Now, the Parish Council is reaching out to community groups across Haddenham to update residents on its plans and how they can get involved.
Joining the Meetings
The General Meetings are open to all members of Haddenham U3A.
Angela Hart, on behalf of the U3A Committee, organises the speaker programme. If you have any suggestions of good speakers who would be suitable for the U3A General Meetings, please contact Angela on 01844 292070 or speakers@haddenhamu3a.co.uk
The committee organises the rota of volunteers for the preparation of the venue.