General Meetings
General meetings of Haddenham U3A usually have a guest speaker and from April 2020 will be held on the first Wednesday of each month. Members arrive from 2.15 for a 2.30 start. Meetings usually last for an hour and a half, including time to socialise over a cup of tea.
Guest speakers cover a wide variety of topics of general interest to enable an increased awareness of our locality and our world, embracing history, travel, nature, science and culture, with a balanced programme to meet U3A aims.
We hope you will enjoy our meetings, learn something new, get to know other members, and occasionally volunteer to help out.
Venue
The normal monthly meetings take place at:
Bradmoor Farm Function Suite
4 Stanbridge Road
Haddenham
HP17 8JX
There is ample parking at the venue.
Costs
General meetings are free to members of Haddenham U3A.
SPEAKER INFORMATION – U3A PROGRAMME 2020
Wednesday 8th April
Timothy Walker – Plant Hunting in Eastern Anatolia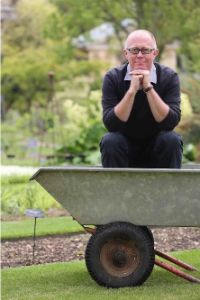 Timothy read Botany at University College Oxford, and on graduation  worked at the University of Oxford Botanic Garden, Savill Garden Windsor,and at the Royal Botanic Gardens Kew.  In 1995 he was awarded a Master of Horticulture by the Royal Horticultural Society of London.
He went back to the University of Oxford Botanic Garden & Harcourt Arboretum,  finally as Director.  Between 1992 & 2000 the OBGHA won 4 gold, 2 silver-gilt, and one silver medal at the Chelsea Flower Show London.
He has given more than 1,500 talks in Britain, Ireland, North America, and Australia to more than 100,000 people in audiences ranging from 20 to 350.  Since 1992 he has been a research lecturer in the Department of Plant Sciences Oxford and  lectures to all three years of the Biological Sciences course..  From 1994 he was a non-stipendiary college lecturer in Plant Conservation at Somerville College Oxford and held a similar position at Pembroke College Oxford since 2007.  In 2010 he was elected as a Fellow of the Linnaean Society of London.
From August 2014 he has been a stipendiary lecturer in Plant Sciences at Somerville College, Oxford, and now holds similar positions at Pembroke College and Hertford College.
His talk on Plant Hunting in Eastern Anatolia takes the form of a travelogue covering some 2,000 miles visiting the Pontic Mountains, the plain of Erzurum and the foothills of Mount Ararat amongst other places of outstanding beauty.
The flora of Turkey is vast numbering many thousands of species.  This talk concentrates on the north-eastern corner of the country where many of our common garden plants come from as well as many choice alpine species
Wednesday 6th May – Annual General Meeting   
CANCELLED
William French – Welcome to my world; Life as a Butler on the Royal Yacht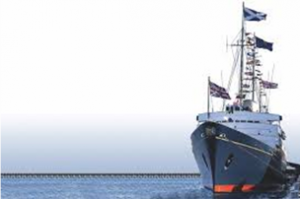 William joined the Royal Navy at 15 where he was trained as a chef but then moved on to become a No. 1 Steward.  Later he graduated to personal steward/valet to a senior officer at NATO HQ.  He saw action in the Falklands aboard HMS Battleaxe and paid tribute to those who lost their lives in that conflict.  Still in the Royal Navy, and after a short spell as Leading Steward, he was appointed Royal Class Steward on the Royal Yacht Britannia which opened up a whole new world for him serving the Queen and Prince Philip on royal tours as well as service on board during their annual holidays in the Western Isles of Scotland with many other members of the royal family.
After de-commissioning of the Royal Yacht Britannia, William's skills and experience took him to Ascot House, near Wing, where he managed a household of 30 staff.  When the house was taken over by the National Trust, he moved to Kensington Palace as 'breakfast butler' and was at the Ritz Hotel in Paris on the night of Princess Diana's tragic demise.
Nine years as butler to Lord Rothermere in Eton Square then followed and, thereafter, William decided to try freelance work.   He claimed Nicole Kidman and Tom Cruise among his most famous clients.
WEDNESDAY 1st JULY.

Subject to change



Muriel Pilkington  – The Mitford Family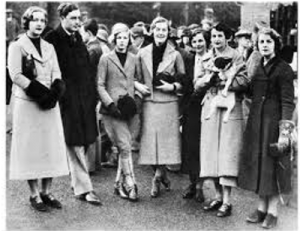 Muriel's talk firstly tells about the background to the aristocratic Mitford family, tracing its origins in Northumberland back to the time of the Norman conquest. In the Middle Ages. They had been Border Reivers based in Redesdale and still have family connections in the area.
William Mitford MP (1744 –1827) was also a Greek historian. Algernon Bertram Freeman-Mitford (1837 – 1916) 1st Baron Redesdale, a friend of Disraeli, married Lady Clementine Gertrude Helen Ogilvy who through this line, produced Lady Clementine Churchill and Sir Angus Ogilvy. David Freeman-Mitford, 2nd Baron Redesdale (1878 – 1958) and his unconventional wife Sydney had six daughters and a son Thomas.
Muriel will provide a synopsis on the six sisters; their political divisions – from Diana an unrepentant Nazi married to Oswald Mosley; Unity who shot herself when war was declared with Germany but lived another 9 years; communist Jessica who eloped with her cousin and emigrated to the USA;  author Nancy who was partially educated at Crown House when the family lived at Old Mill Cottage in High Wycombe and then at the Slade School of Art; Pam who  married  a war hero millionaire who was a brilliant physicist;  and finally Deborah married to Andrew Cavendish, 11th Duke of Devonshire, chatelain of Chatsworth.
Joining the Meetings
The General Meetings are open to all members of Haddenham U3A.
Angela Hart, on behalf of the U3A Committee, organises the speaker programme. If you have any suggestions of good speakers who would be suitable for the U3A General Meetings, please contact Angela on 01844 292070 or speakers@haddenhamu3a.co.uk
The committee organises the rota of volunteers for the preparation of the venue.